Empowerment, Solidarity & Recovery
The core activities of EDN are workshops that include a dozen of activists, from the partner countries and from outside the partnership, e.g. Turkey, Syria, Ukraine and Slovakia. These two/three-full day workshops are about networking and empowering these activists transnationally, to support them in standing against the erosion of democracy and fundamental rights, against the rise of nationalism and white supremacism and the shrinking of civic spaces. In these workshops, the activists learn from each other and improve, develop their skills and abilities, for example in the field of areas such as secure communication and data security, Critical Whiteness, Community Management, non-violent civil disobedience and stress handling.
We are also organizing a series of international "Citizen Dialogues" in the participating countries to bring together a European public, the media and politics in civil dialogues, in order to enlighten, understand and influence society broadly. These events are also the opportunity for local people to meet and exchange with a group of international activists, to get to know their countries' specific context, to experience the European dimension of their own engagement and battle as well as to exchange perspectives, opinions and visions on European topics.
What's happened so far?
On January 28th and 29th, 2019, the kick-off meeting of the project took place at the Centre Marc Bloch in Berlin, bringing together the representatives of our 7 partner organisations from Czech Republic, Denmark, France, Hungary, Poland and Germany. During two days, we co-designed the project objectives, activities and timeline. Read the blogpost here and get to know more about our project partners.
The selected activists met for the first time in Warsaw (Poland) on 22, 23 and 24 March 2019 together with the EDN partner organisations. During the three days meeting, they got to know each other, exchange about their experiences as activists in Hungary, Poland, Czech Republic, France, Turkey, Slovakia, Denmark and Germany. And the participants co-designed the future of the network, its activities and how do they want it to empower them. They also had the opportunity to meet Klementyna Suchanow, Polish author and political activist, who presented the neo-conservative movements in Europe and the backlash on human rights it brings. The activists also did their first spontaneous action, a flashmob at an event gathering polish candidates at the election of the European Parliament and took part in an open space gathering different activist groups both from Poland and across Europe. Read more about this three-days meeting and watch the videos of the flashmob and open space here.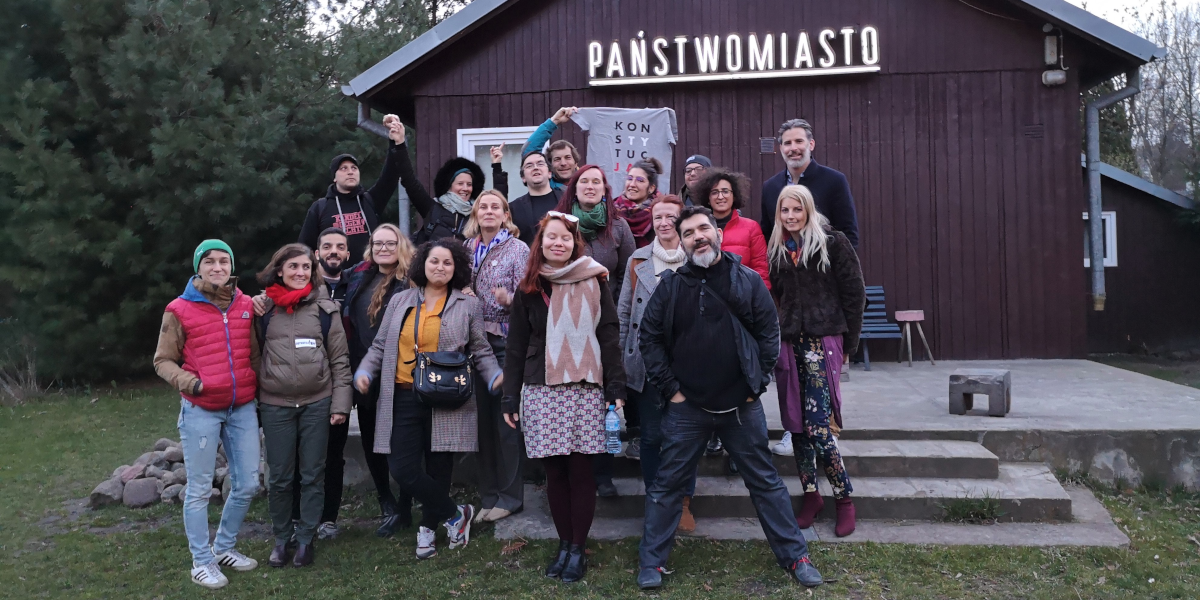 White Privileges, Digital Security, Positive Psychology, Right-wing Populism and Shrinking Civic Space in Germany – the group took part in various training sessions during our Networking Meeting in Werkstatt der Kulturen between 28-30 June 2019. We also organised a "Transnational Inspirations dinner" to give the participants the opportunity to meet local and diaspora activists living in Berlin as well as to share inspiring activists stories and best practices to create change.
Community organising and campaigning; mobile video activism; the situation and discrimination of Roma Community, media propaganda and shrinking of civic spaces in Hungary; psychological support to prevent burn out and strengthen resilience – the third activists' meeting of our European Democracy Network that took place in Budapest from 4-7 October 2019 was full of intensive training sessions, inspiring keynotes, city civic sightseeing, artistic vibes and networking opportunities. On the EDN website you can find audio recordings of the keynotes and civic sightseeing as well as the video of "This Changes Everything" – Mari & Marie's Early Night Show that we organised in the city together with the 17th International MitOst Festival.
Networking with representatives of social movements and civil society organizations from France, Latin American and Caribbean countries, sharing activist success stories, learning about fundraising opportunities and philanthropy for democracy-related projects in Europe, civic-sightseeing in the footsteps of revolutionary women and looking for constructive responses to the problem of shrinking civic spaces – the weekend between 24th-27th January in Paris was full of valuable encounters, reflections and discussions for the EDN activists. Read the blogpost here.
Our homonymous partner Citizens For Europe that supported with 60.000€ the creation and launch of the European Democracy Network also presents the network on their website.
The project is also presented on the partners' websites: Nesehnutí, VoxPublic, TASZ, NytEuropa.